Eugenio Vazzano is an "artistic craftsman" who  combines respect for the environment with his passion for Sicily. Ethical commitment marks his style.
Each item created by Eugenio Vazzano is heartwarming. It is tradition and innovation where colours play a primary role: The back of the Etna, the green of the citrus fruit, the white gold of the salt pans and the red of the tomatoes. But it is not just about colours. The richness of this chromatic palette lays in a creative process of re-birth. Above all, in order to create, Vazzano re-creates. He turns scrap and waste into garments, items of furniture and design objects, creating a contemporary style which conveys the value of  sustainability. "The artistic craftsman", as many call him, combines the respect for the environment with Sicily. 
"Clothes, coats, flat hats, bags, caftans, items of furniture and paintings. All my creations are the outcome of my deep relation with my homeland – Vazzano says -. Sicily is a constant source of inspiration,  offering me new emotions and sensations on a daily basis. To love it means to respect it: I do it through creative recycling and patchwork.  
Vazzano's "à-porter works of art" – which could more radically be considered forms of upcycling – are the expression of an ethical commitment embodied by the company "Melilli Factory" founded by the artist in 1992.
"Most of people consider diverse and small pieces of fabric to be scrap, whereas to me they are precious and unique. In fact, they are my raw material. I carefully look for them and manually assemble them and each time the result is completely different. It all started in Melilli, where I spent my childhood and where I came back to, after a long time away. In Melilli I came across an old nineteenth century caponata plant and I turned it into my laboratory".
Vazzano's skills and vision are in part the expression of his experience in the United States but at the same time they reveal Italy's and Sicily's old tradition and techniques.
"I moved to the States when I was just fourteen. I wanted to study art and I had to work hard for a living, taking all sorts of jobs. I still cherish the curiosity and the desire to learn and to explore that marked that long experience. I have vivid memories of my wondrous and endless 'adventures' strolling around antiques markets, surrounded by fascinating objects and precious fabrics. When I came back to Italy, I moved to Florence to study at the American Academy of Art, while working in a prominent fashion boutique. Undoubtedly, it a was a very important period in my life".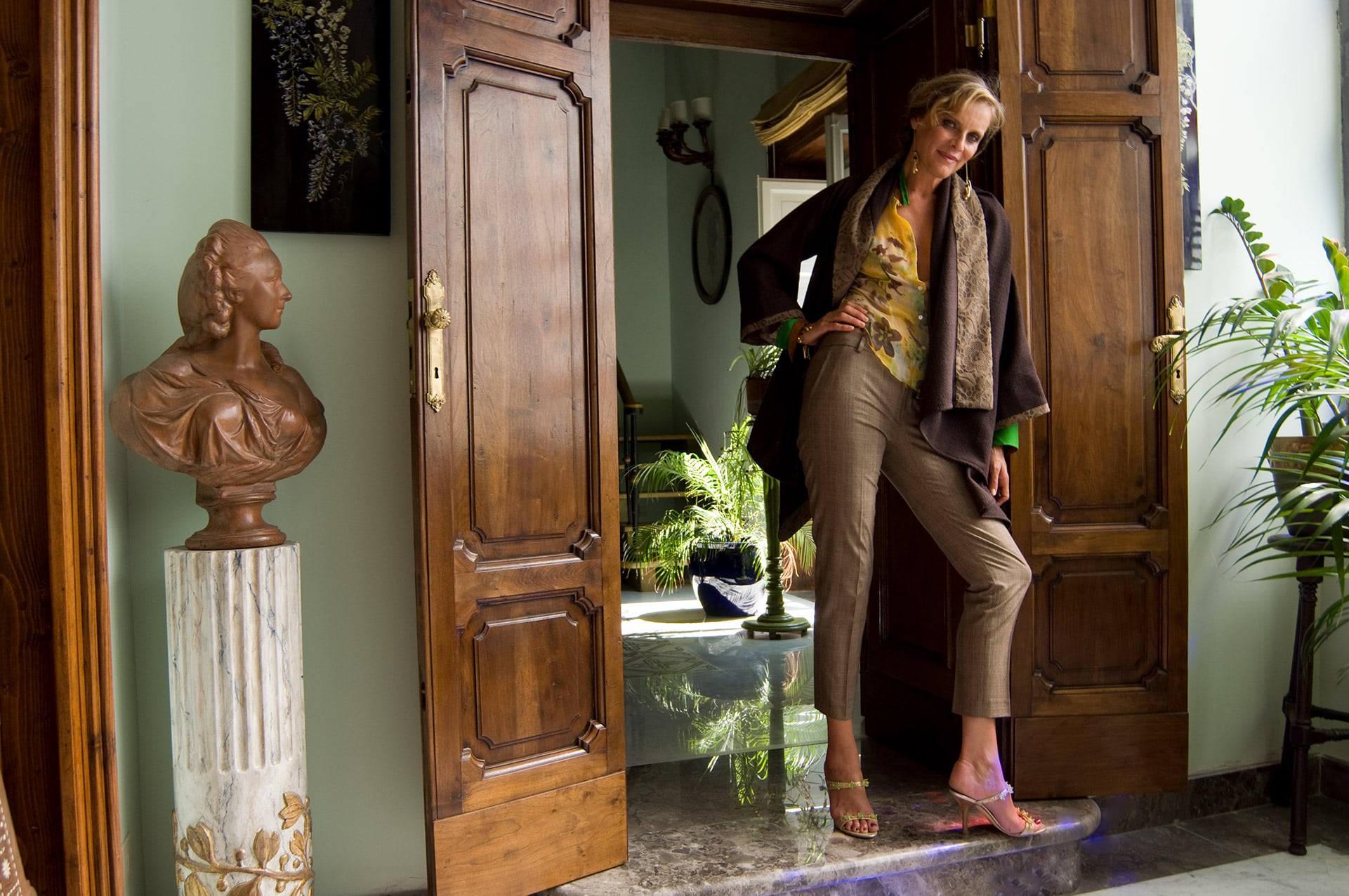 Working using the patchwork technique, evoking his American period, Vazzano's style is unique, deep-rooted in manual dexterity and refinement.   
He bestows a new life to fabric leftovers and transforms them into art creating sometimes surprising and sometimes naturally essential combinations.
Vazzano uses traditional fabric, precious silk, cotton, linen, velvet but also unusual material such as rough jute, oriental wools and jeans which are then treated, painted and decorated. "Each fabric leftover is the beginning of a new story". It is the heritage of a past life, it is poetry generously conveying marvels. 
In the photo Eugenio Vazzano.
Photo in the article: archive collection shooting Eugenio Vazzano, model Alessandra Chiti.