At the Museo delle Trame Mediterranee, fragments of letters are floating on a silver plate and giving form to a thought. It is Francesco Impellizzeri's installation, unveiling mysterious alchemies. 
In the video: An overview enriched with words.
Music by Ettore Sanfilippo 
The shades, that at first sight looked blurred, gradually stand out. It is not a sentence. It is a random mixture of images and sounds, of bright tonalities and pungent scents. It is Souvenir, a site-specific installation by Francesco Impellizzeri. Since 2019, the work has been kept in the Museo delle Trame del Mediterraneo, in Gibellina. Wood, cloth, fragments of painted marble and a soundtrack. This is how Impellizzeri tells about his return to Sicily.
«Coming back to my Sicily – says the artist, who was born in Trapani but has lived in Rome – could not just be justified by pure longing, but it needed to trigger a recovery process of those small and big things that have shaped my creativity and into which I was going to immerse myself once again». 
Not surprisingly, the word souvenir (from the Latin subvenire, to come to one's aid), refers to an object taken as a keepsake when coming back from a journey.
Impellizzeri's remembrance starts on the sea-shore. 
«I saw smooth slabs of marble near an old saw-mill. They had once decorated stairs and enriched floors. Marble that had been mined from Trapani's rich quarries, taken from the mountain down to the sea, to be cut, smoothed and in part discarded».
These fragments have been mentally recomposed , gathered and arranged in a chain of forms 'conversing' with words painted in silver.
But there is more. Enza Fiammetta, the director of the Museo delle Trame Mediterranee, sheds light on it.
«For the artist memories are not enough: The thought has to take shape and it is just at that moment that the memory tries to appear, to become writing, the letters have lost their shaper and they become nothing but small circles filled with colour. Elements of a strange lettering, halfway between thought and representation, more akin to a memory than to writing. They are organised signs which create sentences, appearing more clearly on a mobile phone screen, as though they were mega-pixels. In fact, they recall the pop-artists, who broke down the imagine into photographic pixels.
The writing harmonises with the creative process.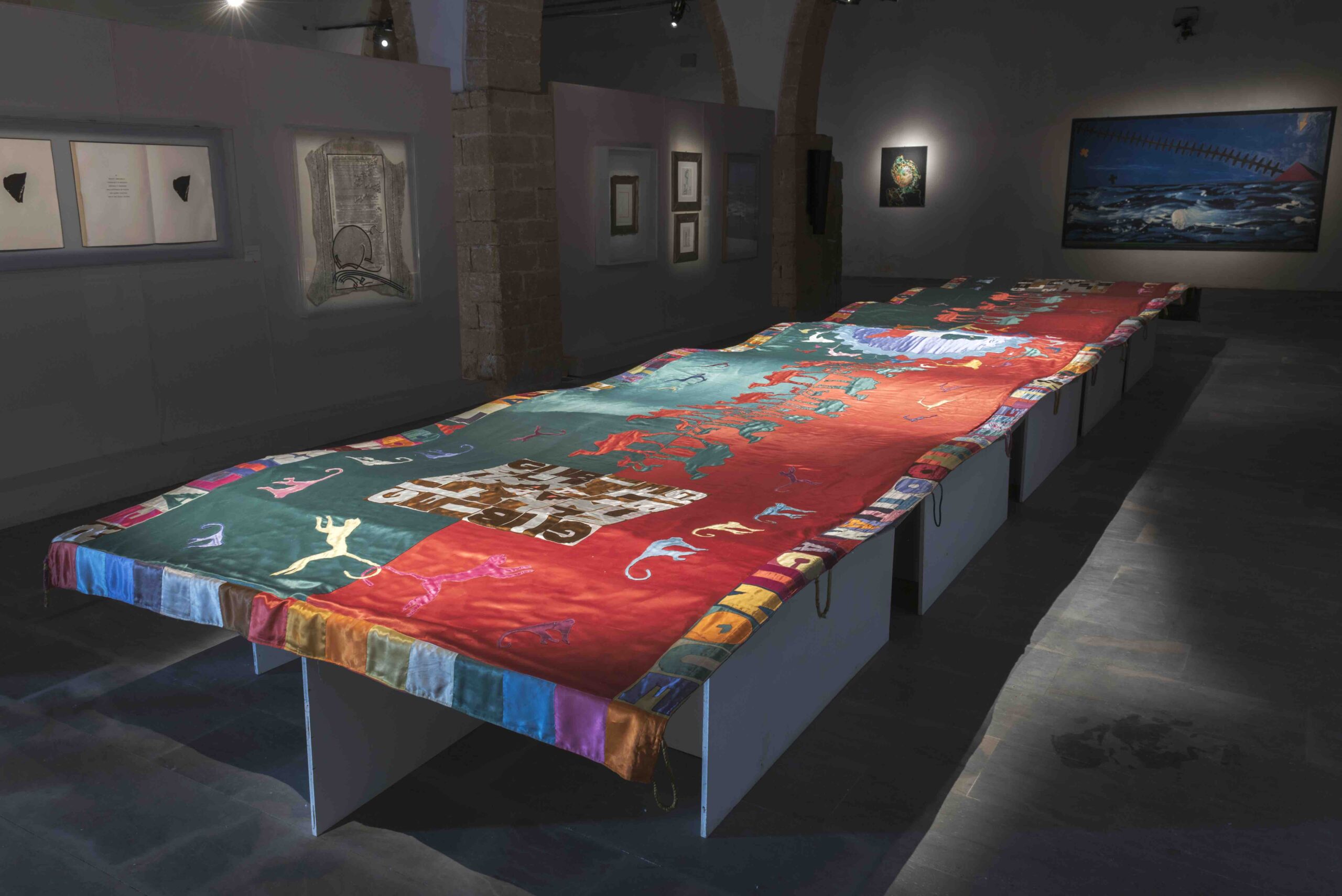 Ludovico's Corrao's words
"Sicily can only be fully understood within the framework of the Mediterranean and the Mediterranean can only be interpreted through Sicily. The old and new exoduses, the migrations due either to natural catastrophes or economic crises, the settlements founded after conflicts: they all reveal the pattern of the common cultural origin".
Writing is one of the possible decorative patterns linking together the objects, coming from different ages and places, that dwell in the Museo delle Trame Mediterranee.
Writing unveils the word and it becomes language. In the different cultures that are part of the Mediterranean soul, it becomes a language that reveals itself to the eyes.
To be able to actually see the language, rather than just use it, allows one to give the form – and thus each representation – an independent nature. A procedure that fosters confrontation and thus comparison, in that it enhances the differences in their most authentic sense. In their own right, words are signs of a past that coexist with the present.